When assembling a powerful gaming PC, money was always the biggest problem. Even before the growth of the dollar, the mention of which was already nagging, a really fast processor and a really powerful single-chip video card cost a lot, about 50 thousand rubles. And to them it is necessary to purchase a motherboard, RAM, a bunch of other iron, as well as a spacious enclosure into which all this economy should fit. There were no other problems in general.
There were no special difficulties with assembling a powerful and quiet gaming PC: it was only necessary to think carefully about the cooling system and invest more money in it. But when trying to build a powerful, quiet and at the same time compact gaming PC problems began. The vast majority of cases for such a task does not fit, and it is from them that the computer's dimensions depend.
Of course, on sale there are small cases, in which you can fit even a large video card like NVIDIA GeForce GTX 980 or AMD Radeon R9 290. But they will not really be compact, and they look like an amateur . What to do, these are the costs of the universality of all computer cases on the market.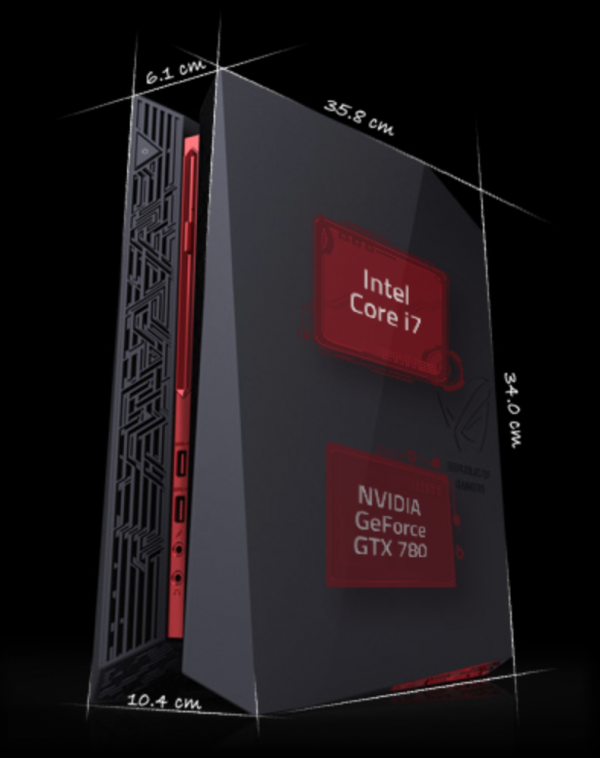 Here the producers of all kinds of computer hardware come out onto the stage, releasing, among other things, also computers entirely. Giants like ASUS can afford to produce gaming PCs in specially designed, customized cases that can not be found in stores. The advantage of such computers will be an unusual design, compactness and, if the manufacturer especially tries, quiet and efficient operation of the cooling system. Inside such cases there will be no "extra" volume, and the cooling system can be as unique as the case itself.
This is how the gaming PC ASUS ROG G20: compact, fast and quiet. The maximum thickness of the shell is only 10 centimeters, and its appearance can be envied by almost any computer case.
⇡ # External appearance
Judging by its appearance, ASUS ROG G20 is more like a game console, a Steam Machine or a ziggurat – remember, there were such truncated pyramids in the days of the ancient Sumerians? At the same time, it contains almost the most powerful iron from the currently available one.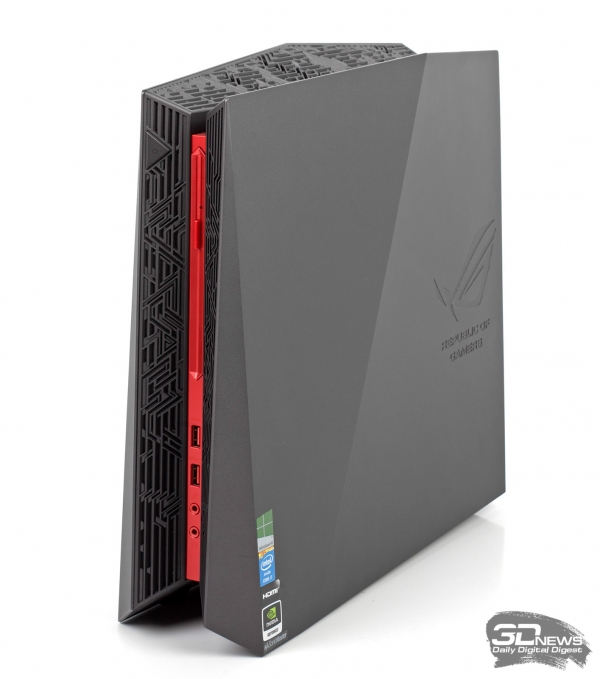 On the front, top and bottom panels the manufacturer has placed patterned ventilation grilles, behind which is a multicolored LED backlight. Also on the front face (or faces? – the body is made so that it seems like there are two of them) ASUS ROG G20 there is a power button, two USB 3.0 ports, a pair of 3.5 mm headphone and microphone jacks, and a thin optical Drive.